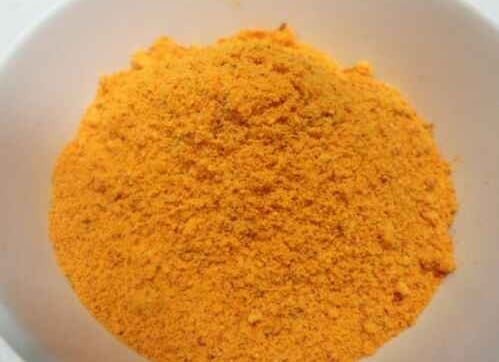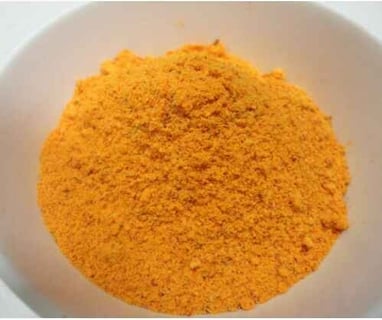 This powder can be prepared and stored for months in the refrigerator. This is usually used as a side dish for dosa and idli. But it can be sprinkled on a sandwich to make it more tasty, or used for making roti rolls, and more.
Chutney Masala
Special Accompaniment to Dosas and Idlis
Ingredients
split bengal gram (chick pea) 500 gm
red chillies 10 gm
asafoetida a pinch
tamarind 100 gm
copra 150 gm
salt to taste
Roast the bengalgram and red chillies in a pan without oil. They should be roasted dry till the bengalgram turns golden brown and the red chillies become crisp. After allowing time to cool, powder them in a mixer to a smooth consistency. Then add bits of tamarind and grind. Then add the salt and grind. Then add the copra and grind. Let all the ingredients be mixed well. Store in an airtight container.
This powder can be used to prepare 'chutney' an accompaniment to Dosa and Idli. To prepare chutney, this powder is ground to a paste with freshly grated coconut and chopped coriander leaves. A little extra salt may be added, if necessary. The chutney is seasoned with mustard and cumin roasted in oil.
Sandwiches can be prepared by applying this chutney on slices of bread. The powder can also be sprinkled on salads or added to vegetable preparations.
Procedure for preparing potato curry
1. Peel and cut potatoes so that you have one-inch cubes.
2. Take a pressure pan or an ordinary pan and prepare for seasoning. Take two tablespoons of oil, put some mustard and cumin seeds. When they pop up and crackle add a teaspoon of split bengalgram (chick pea) and a teaspoon of split black gram.
3. When the bengal and blackgram are roasted well add the pieces of potatoes. Roast for about 5mts.
4. Add this chutney powder, a pinch of turmeric and salt to taste. Mix well.
5. Add a little water, cover and cook. If it is cooked in the pressure pan it will get done in three whistles. If it is cooked in an ordinary pan, it needs to be stirred occasionally.
6. You can add chopped coriander leaves and curry leaves for additional flavour and for dressing.
Any other vegetable can be prepared in the same way.