Instant Dosa Powder
Preparing this powder and storing it for months can give you a stress free two minute breakfast ready whenever you need it. Just take a bit of powder, mix with water and dos batter is ready.
INSTANT FOOD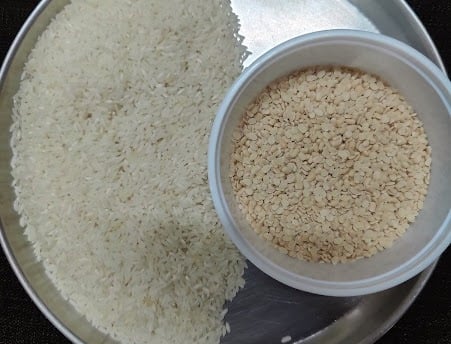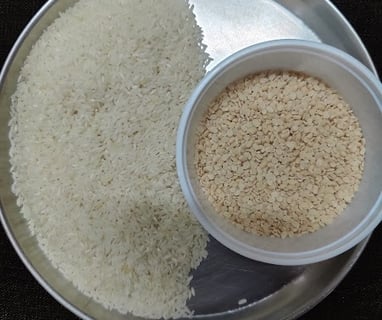 Ingredients
Rice - 1 kg
Urad Dal - Black Lentil - 1/2 Kg
Menthi seeds - Fenugreek - 10 gms
Asafoetida - a pinch
Salt - To taste
By preparing this instant dosa powder and storing it, you can make dosa whenever you want in a couple of minutes. Two-minute-dosas can be easily made with this instant mix.
Procedure
1. Soak the rice for at least 8 hours. If you leave it over night it will be better. Drain all the water, spread on a piece of cloth to let it dry for a few mins and powder the rice. You can grind with a mixer grinder or get it ground in a grinding shop. Take the rice powder through the sieve and spread the powder on a piece of cloth or plastic sheet and allow it to dry in shade.
2. Grind the urad dal and menthi seeds to a fine powder. Add a pinch of asafoetida (optional).
3. Measure 5 cups of rice and add to it 2 cups of urad dal mix. In the same way measure the entire rice and add urad dal mix proportionately.
4. Add salt to taste.
5. Store in the refrigerator.
Whenever you want to make dosa take the required amount of the mix, add a little water to make dosa batter. Some people like a little sour taste in the dosa. For this curd or yogurt can be added to the powder instead of water. Make the dosa on a pan as usual.
You can also add a couple of teaspoons of oil or ghee on the pan to get the dosa to come out of the pan easily. It will be soft and tasty.
You can alter the proportion of 5:2 to suit your taste. If you like the dosa to be crisper you can make the mix as 3:1 - 3 rice and 1 urad dal mix. While making the dosa you can add a little more ghee to make the dosa crisper.