Sambar Masala
This powder is added to pulses and vegetables to make Sambar. Sambar serves as an accompaniment for Dosa and Idli. It is also a regular dish eaten with rice in the South Indian households.
SPICES
Ingredients
coriander (seeds) 250 gm
split bengal gram (chick pea) 100 gm
split black gram 100 gm
red Chillies (long) 8
cinnamon 5 gm
asafoetida 5 gm
oil 2 table spoons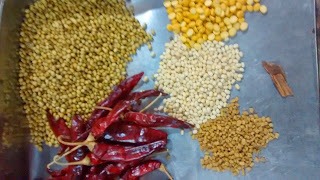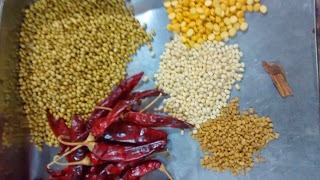 Heat the oil in a pan and put in the asafoetida first. Then add all the other ingredients and roast till the chillies turn crisp and the other ingredients turn golden brown. To roast all the ingredients evenly the flame should be medium high. Keep the roasted ingredients aside to cool. Then grind them to a fine powder in a mixer.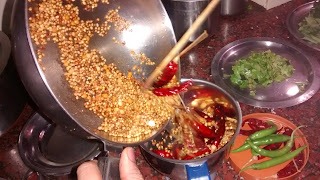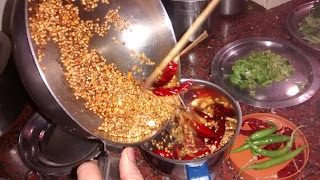 This powder can be added to a number of dishes. But the most important item that is made with this powder is 'Sambar'.
Sambar is made with dal and vegetables. Any vegetable can be used for preparing Sambar. You can use just one vegetable or a combination of three, four or five vegetables.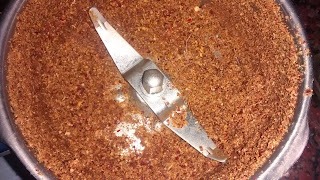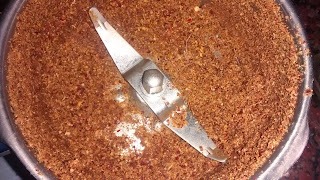 Procedure for preparing Sambar
1. Cook about 250 gm of split gram (pigeon pea) with a pinch of turmeric powder.
2. When the dal is half cooked put in the vegetables. You can put in carrots, potatoes, brinjals, white pumpkin, etc. Alternatively, you can cook the dal and vegetables in the pressure cooker.
3. Grate half a coconut.
4. Take two tablespoons of Sambar powder and grind it along with the grated coconut and add it to the cooked dal and vegetables. Alternatively, you can add the powder directly without grinding it to a paste with coconut.
5. Boil for 5 mts.
6. Add the required amount of salt and boil for 5 mts.
7. Add a teaspoon of tamarind paste. Or soak some tamarind in water and squeeze out its essence. Add a cup of tamarind essence.
8. Boil for 5 mts.
9. Season the Sambar. Roast a teaspoon of mustard and cumin seeds in a spoonful of oil and add. A pinch of asafoetida can also be added.
10. Add curry leaves and chopped green coriander for additional flavour.
11. You can add a teaspoon of ghee and keep the Sambar covered for 5 mts.
This powder is also used for preparing curry or dry vegetable preparations and for preparing spiced rice. For this Sambar powder, tamarind essence and salt are added to rice and it is seasoned. Usually in restaurants Sambar is served as a side dish with Dosa and Idli. In that Sambar only onion is added to dal and this powder is put in directly.
Sambar which has one or more vegetables, wherein the powder is ground with grated coconut and added is also called 'Koottu' Whenever this type of Sambar is prepared it should be boiled on medium heat till the powder and tamarind essence get cooked, blend well with the dal and vegetables and exude a delicious smell.
The picture given below is a simple sambar where a number of vegetables are cooked with pigeon peas and this powder and salt is added to it. A few tomatoes are roasted and added to improve the taste. You can also add tamarind powder or essence or just squeeze a lemon and get the tangy taste.