Tamarind Rice
This rice is mixed with tamarind essence and it tastes slightly sour and very tasty. The spices for this rice are specially prepared and they contain healthy ingredients.
RICE RECIPES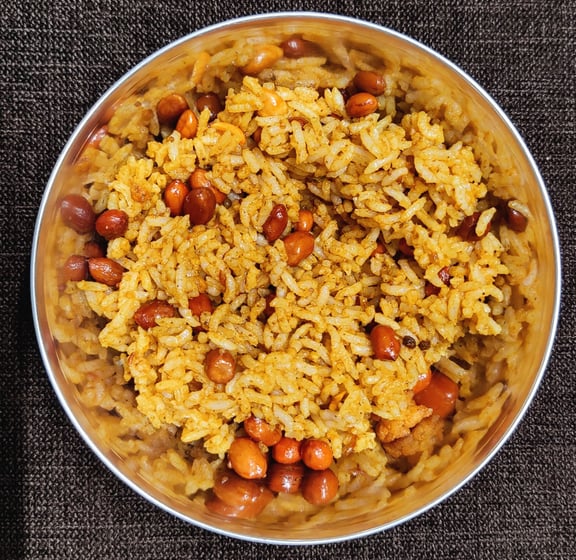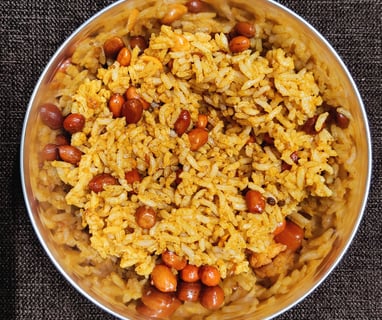 Ingredients
1. Rice 1500 gm
2. oil 250 gm
3. ground nuts 100 gm
4. copra 150 gm
5. tamarind 30 gm
6. mustard seeds 10 gm
7. bengal gram (split) 10 gm
8. black gram (split) 10 gm
9. curry leaves 10 gm
10. green coriander 10 gm
11. jaggery 5 gm
12. turmeric 1 teaspoon
13. salt to taste
Ingredients to be powdered
Roast all these ingredients in two spoons of oil. Roast in medium heat for about 10 minutes. If properly roasted the chillies turn crisp and the other ingredients change colour. Keep aside the roasted ingredients to cool and then grind to a fine powder. Now the podi is ready to add to Puliyôdarai.
1. coriander (seeds) 500 gm
2. red chillies 5 gm
3. bengal gram (split) 1 teaspoon
4. black gram (split) 1 teaspoon
5. fenugreek 1 teaspoon
6. pepper 2 teaspoon
7. cinnamon a one inch piece
8. asafoetida (hing) a one inch piece
Procedure
Cook the rice in a pressure cooker with less water. If properly cooked the rice should not look like a paste and the granules should stand separate. Basmati rice is usually used for Puliyôdarai. However, other rice varieties can also be used. Take a big vessel and spread the cooked rice. Add a teaspoon of turmeric powder and a tablespoon of oil. Keep it aside to cool.
Soak the tamarind in a bowl of warm water for 3 minutes. Squeeze the tamarind, take the essence and boil it in a pan. Initially the essence will have a lot of water content because water is poured on tamarind two or three times to get the essence. Allow the tamarind essence to boil till it looses its water content and turns into a thick paste. Add about 5 gm of jaggery when the tamarind essence is boiling. After it becomes a thick paste remove it from the fire and keep it aside to cool.
Prepare the powder or the 'podi' and keep it ready to mix with the rice.
By now the rice must have become cool and it is ready to be mixed with the other ingredients. The powder and tamarind paste should not be mixed with the rice when it is hot.